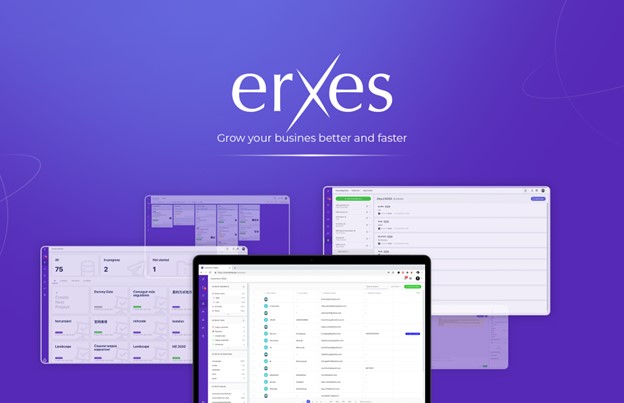 We're proud to officially announce our new partnership with erxes, which is simply an open-source alternative to CRM systems such as Salesforce or Hubspot. Use this all-in-one growth marketing platform to boost the growth of your business! Let us give you more information about what erxes can do.
erxes is an all-in-one growth marketing and business management platform.
About erxes
In a world where everything is shifting, especially the way we communicate, businesses need to keep up. But it doesn't have to be so hard. Or expensive. Existing solutions for sales, marketing & support offer similar sets of features for high pricing. Erxes offers an all-in-one solution for sales, marketing, and customer service teams. Focus on the entire customer experience – driving more engagement while leveraging growth marketing.
Merge all your marketing, sales and customer service tools and replace 3-5 tools with a single platform for greater output
Built-in messenger, team inbox, pop ups, knowledgebase, email verification
Manage different businesses using one account with no branding
Best for growing B2B or B2C companies with many brands that want to be more customer-centric.
Features and benefits
Team Inbox
The Team Inbox combines real-time client and team communication along with in-app messaging, live-chat, email, forms, and more. Businesses can capture customer feedback and educate customers right through the messenger with Response Templates. You can read more about the team inbox here.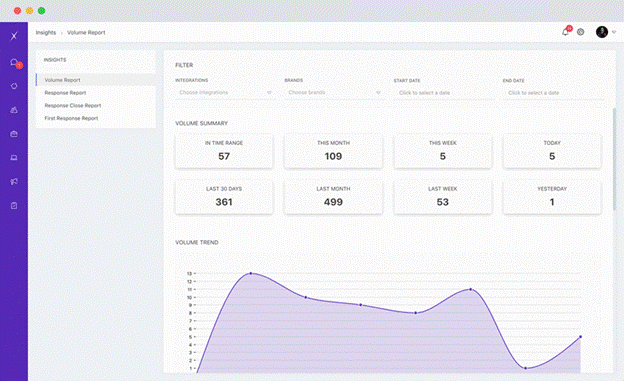 Stay in sync with your customers and staff through Team Inbox
Sales Pipeline
Users can manage and track their complete sales pipeline from one dashboard with their Kanban-style boards and choose what would be the next best move. You can read more about the sales pipeline here.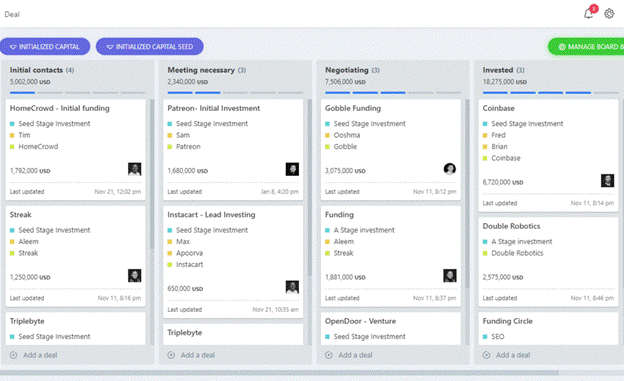 Drive leads to a successful close with their Kansan-style boards in the Sales Pipeline
Engage
Users can convert prospects, i.e website visitors, into qualified leads by engaging them via email, SMS, messenger and pop ups to drive them to a successful close. You can read more about tracking your engagement here. After setting certain triggers as Segments, you can create automated messages to convert these leads into customers. You can read more about automated messages here.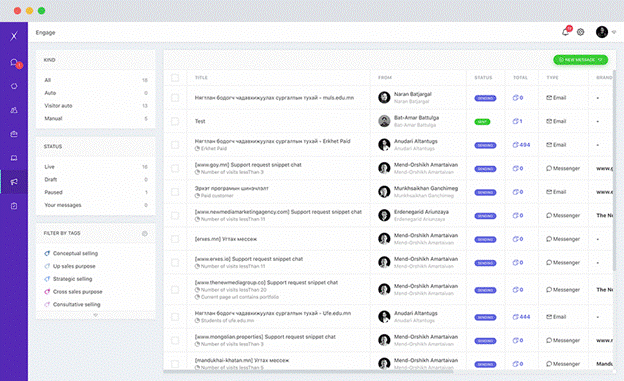 Convert your prospects into potential customers with email & SMS marketing from Engage
Task Management
This is the intersection between your sales, marketing and customer support processes. With this tool you can see what everyone is working on or assign tasks. This allows your teams to become more self-reliant and cross-linked. You can read more about task management here.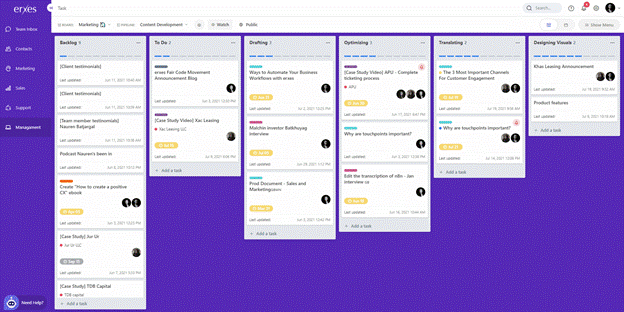 Know what your team is working on across sales, marketing, and support with comprehensive task management
Growth Hacking
Users can leverage growth marketing strategies with pre-built templates. You can record, prioritize tasks with ICE, RICE, PIE scoring model and centralize everything in a single dashboard. You can read more about growth hacking here.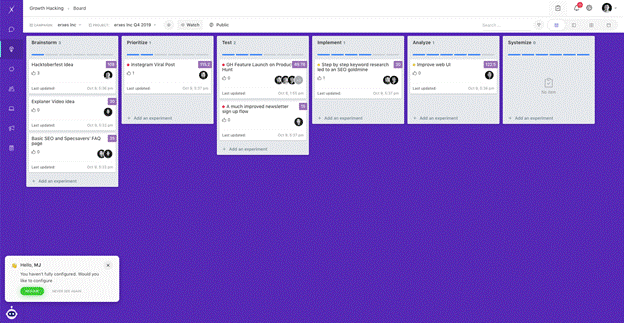 Leverage growth marketing and scale your business with Growth Hacking
Market fit
Their marketing automation software replaces 3-5 sales, marketing, customer support tools with one platform at an affordable price. As a B2B platform, erxes focuses on the entire customer experience and the complete marketing funnel that they go through.
Pricing and Product
The pricing is simple and easily navigable. erxes offers a growth (SaaS), and enterprise plan. Each of which can be customized with additional add ons. You can familiarize yourself with their plans here.
Enterprise
Better service that is ideal for high-trust organizations in regulated industries.
Custom development, installation and support
Keeping it in your own server
Join over a million users all over the world and acquaint yourself with the platform today!
Subscription-based online version (SaaS)
Better growth, ideal for growing to medium sized business with a large customer base.
Start for free and scale up individual features when ready
Simple version for SMEs with no in-house developers
You can pay just $29 a month and use various marketing services that can be operated on 5-6 existing tools. Also you can calculate your own price that fits in your business.
If you want to grow your business and get more information about erxes. Click here