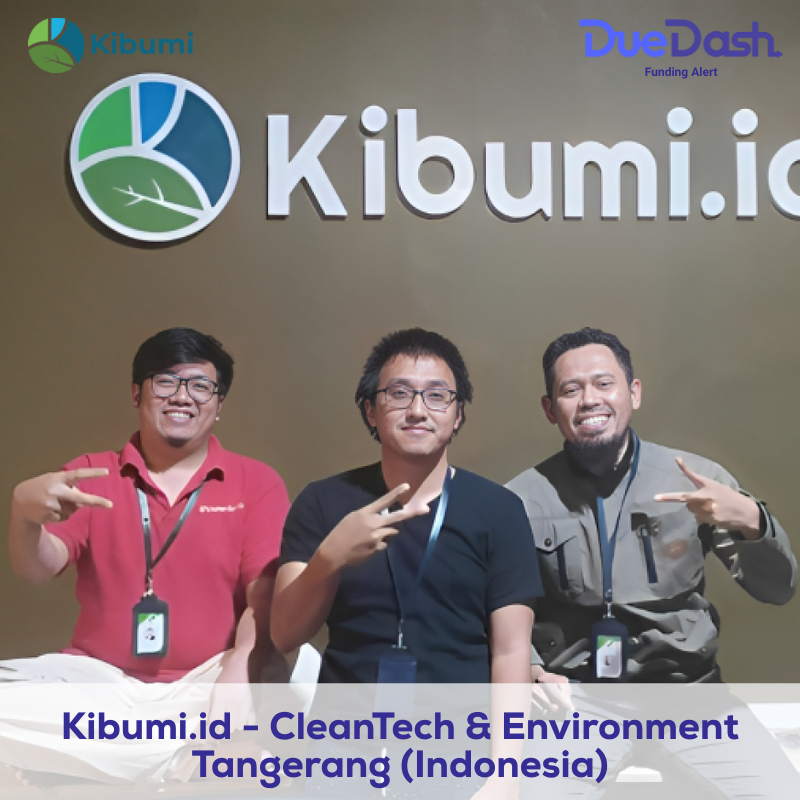 Founded in 2020, Kibumi is a digital start-up that offers solutions to help organizations conduct business responsibly while addressing waste, circularity, and sustainability concerns. The company employs innovative and practical technologies to consolidate and modernize traditional players in the waste circular value chain. By doing so, Kibumi enables recyclers to develop more robust waste and recycled material value chains, thereby contributing to a more sustainable and circular economy.
Kibumi's approach to waste management involves the use of advanced digital tools and technologies, which help to streamline the waste collection, sorting, and recycling processes. Through the use of these tools, the company aims to increase the efficiency and effectiveness of waste management operations, while minimizing the environmental impact of waste. With a strong focus on sustainability, Kibumi is committed to supporting organizations in their efforts to reduce waste, improve circularity, and promote a more sustainable future.
To check their data and data room, check Kibumi on DueDash.
The mission & the purpose
Through their innovative services and technologies, they collaborate with various stakeholders to create a complete ecosystem for their sustainability solutions. These stakeholders include waste collectors, brand owners, Fast Moving Consumer Goods (FMCG) producers, the packaging industry, the recycling industry, financial institutions, government agencies, and non-governmental organizations (NGOs).
By bringing together these stakeholders, they aim to create a more comprehensive approach to sustainability that addresses the entire value chain, from waste collection and sorting to recycling and waste reduction. Their innovative solutions help to streamline these processes, making them more efficient and effective.
The waste collector stakeholders play a critical role in their ecosystem, providing the raw materials for the recycling industry to process. Meanwhile, brand owners, FMCG producers, and the packaging industry are responsible for creating the products and packaging materials that end up as waste. By working with these stakeholders, they aim to reduce waste at the source and improve the circularity of materials.
Additionally, financial institutions, government agencies, and NGOs play an essential role in supporting their sustainability solutions. These stakeholders provide funding, regulatory frameworks, and support for their initiatives, helping to create a more sustainable and circular economy. Through their collaboration with these stakeholders, they strive to create a more sustainable future for all.
Sustainable solutions & innovation in circular economy
As concerns about climate change, marine debris, and plastic pollution continue to grow, startups like Kibumi are playing an increasingly important role in addressing these pressing issues. By leveraging innovative technologies and practical solutions, Kibumi is leading the way in creating a more sustainable future.
Fundraising achieved so far
They completed a pre-seed round with USD 100k from an angel investor, Christine Halim, who is a pioneer in the Indonesian plastic recycling sector and currently serves as the chairwoman of the Indonesia Plastic Recycling Association.
They are currently in their seed round and are looking to raise USD 5m.
Elevating waste management initiatives for greater impact
Prepared with a team committed to putting in far more effort to improve the whole waste collecting value chain by consolidating informal waste collectors (pemulung and lapak), this startup is focused on technology adoption, infrastructure improvement, and skill development. The team is dedicated to assisting these waste collectors in growing and having a better life, recognizing that your waste is the cause of their existence.
Kibumi's growth signals promising future for waste management
Over the past year, waste management startup Kibumi has experienced a remarkable growth rate of approximately 300%. This growth has been a key investment signal for the startup, indicating its potential for success and profitability in the future.
Sustainable solutions for the growing demand
Kibumi, a waste management startup, has a huge opportunity to tap into the recycling industry and waste management services market with a total addressable market (TAM) of $965.8 billion. The market has been growing at a compound annual growth rate (CAGR) of 9%. Moreover, with 30% of Europe's mandatory requirement to recycle content, the demand for waste management services is expected to increase. Big players in the industry such as Coca-Cola, PepsiCo, Nestle, Unilever, and Danone have also set their own targets for using recycled content in their products by specific years. In Indonesia, where Kibumi is based, the daily unmanageable waste amount is staggering at 175,000 tons.
Therefore, Kibumi is in a prime position to offer sustainable and innovative solutions in the waste management industry, which not only meets the increasing demand but also addresses the global problem of waste management.
Kibumi's innovative use of technology in waste management sets a new standard
Kibumi, a waste management startup, has integrated end-to-end technology into their services, from mobile apps for digital waste management to an ERP platform that automates and connects the waste management process. Additionally, Kibumi's modern junk shop provides traceability reports to brand owners and other clients with plastic credit to the Kibumi hub.
This integration allows Kibumi to offer reliable real-time traceability data and ESG/EPR compliance to recycling companies through their ESG dashboard. The use of technology in Kibumi's waste management process not only improves the efficiency of the process but also enhances transparency and accountability, making it a more sustainable and responsible option for waste management
Want to learn more and see if the startup fits your portfolio? Check out Kibumi and connect with them on DueDash.