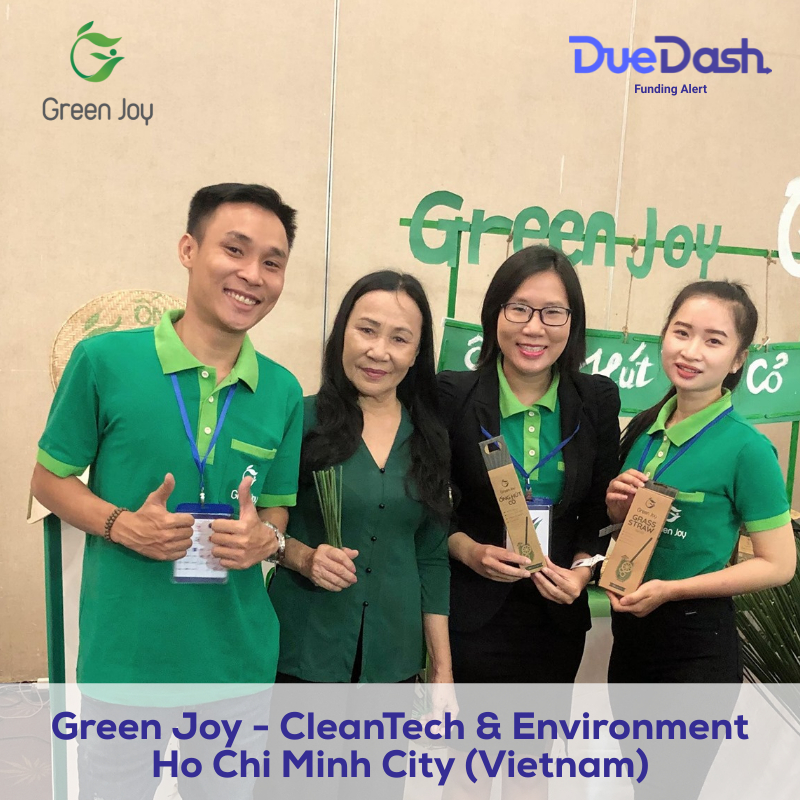 As the founder of Green Joy, Vo Quoc Thao witnessed the impact of excessive plastic consumption and irresponsible waste management firsthand. She saw a plastic straw lodged in a turtle's nostril and witnessed shorelines polluted with plastic waste. This experience drove her to create a solution that would reduce plastic waste and protect the environment.
The world's oceans are currently inundated with approximately 36.4 billion plastic straws, and more than 80 countries have already prohibited the use of single-use plastic straws and utensils. Climate change is significantly impacting the livelihoods of local inhabitants, with 55% of the population in The Mekong Delta predicted to be affected by 2100. In addition, F&B and HoReCa partners are facing difficulties finding suitable replacements for single-use plastic straws and utensils as these items are already banned in their respective countries.
Furthermore, due to an increase in energy demand, conventional fuels like coal and natural gas are rapidly depleting, posing severe environmental, ecosystem, and health hazards.
Green Joy aims to drive change by seeking natural alternatives to tackle the problem of plastic pollution. They have introduced Green Joy grass straws made from Grey Sedge grass, which is indigenous to the Mekong Delta region. These straws are entirely natural, biodegradable, and never get soggy. The entire process, from farm to table, is meticulously executed to ensure superior quality with minimal ecological impact. Green Joy's grass straws also contribute to the preservation of endangered species habitats, help protect the ocean and its resources, and support local farming initiatives.
To check their data and data room, check GreenJoy on DueDash.
The mission & the purpose
Green Joy's solution to the plastic waste problem is the production of compostable straws and utensils made from natural grass that is native to the Mekong Delta region. These grass straws are not only safe, but also 100% organic, scalable, rapidly generated, and sustainable with minimal energy and resources utilized during production. The utensils are ideal for use in F&B, home, and kitchen settings. Furthermore, any remaining grass waste is converted into biomass using advanced technology to create grass pellets, which is currently under development.
The adoption of Green Joy's solution is beneficial for several reasons. Firstly, it can significantly reduce plastic waste and pollution. Secondly, it can improve the livelihoods of hundreds of farmers and local women in the Mekong Delta region. Thirdly, it provides F&B and HoReCa businesses with sustainable alternatives to reduce their carbon footprint. Finally, Green Joy's grass-based solution can serve as an efficient and sustainable source of energy.
By choosing Green Joy's compostable straws and utensils, businesses and individuals can contribute to a healthier planet and support sustainable farming practices that benefit local communities. It's an opportunity to make a difference and contribute to the creation of a cleaner, greener future for generations to come.
Leading the charge in eco-friendly alternatives to single-use plastics
In the industry of ecological solutions for single-use plastic products, startups like Green Joy are becoming increasingly relevant due to their ability to adapt to climate change and contribute to the circular economy. The company offers plant-based and eco-friendly alternatives to traditional plastic products such as straws, utensils, and pellets. These solutions have garnered considerable interest as they significantly reduce plastic waste and help mitigate the effects of climate change.
Green Joy's natural grass Lepironia straws and utensils are sustainable, biodegradable, and contribute to the preservation of endangered species habitats. Additionally, the company's innovative approach to the utilization of grass waste, via biomass technology to create grass pellets, provides an efficient and sustainable source of energy. By focusing on these trends, Green Joy's solutions offer a promising path towards a cleaner and more sustainable future.
Fundraising achieved so far
Grant: Total USD 150,000
– UNDP: $23,000
– VietChallenge: $15,000
– CSIP: $2,000
– SUP- The Incubation Network: $1,300
– USAID: $108,000
The startup is currently raising $500,000 for equity, convertible loan, and SAFE.
Green Joy's team champions sustainability
Green Joy's team is dedicated to accelerating the phasing-out of single-use plastic by producing affordable and sustainable plant-based products made from natural materials.
Revolutionizing Sustainability
Green Joy has gained remarkable traction in the market, having already sold 40 million of their sustainable grass straws as an eco-friendly replacement for plastic straws. The company is also currently working on research and development for creating pellets from grass waste, furthering their commitment to sustainability and reducing waste.
Sustainable products for a sustainable future
The Total Addressable Market (TAM) for Green Joy's sustainable and affordable plant-based products is estimated at $18 billion.
Traceability and automation for sustainable products
Green Joy utilizes cutting-edge technology such as automation with AI, traceability, and biomass for pellets in their product line.
Want to learn more and see if the startup fits your portfolio? Check out Green Joy and connect with them on DueDash.