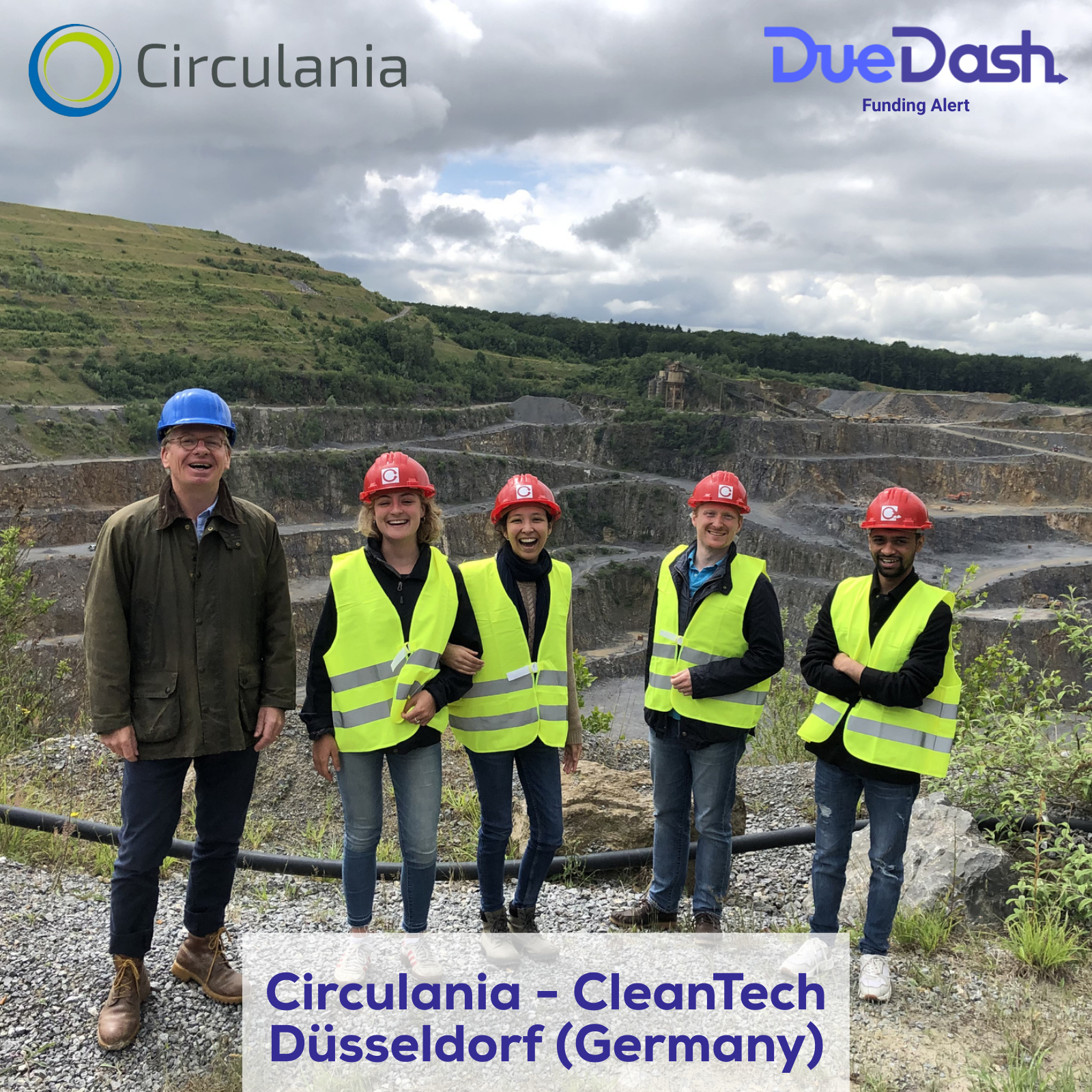 Circulania is a pioneering virtual production network that repurposes industrial by-products and wastes, assembling comprehensive supply chains to create tailored materials meeting specific procurement specifications, initially focusing on the steel, metals, and refractory sectors and now expanding into the chemical and cement industries.
To check their data and data room, check Circulania on DueDash.
The mission & the purpose
Transforming industries, one material at a time
At its core, Circulania is a platform designed for the industrial circular economy, a groundbreaking concept that aims to create a self-sustaining ecosystem where materials flow seamlessly from one purpose to another, eliminating the need for wasteful disposal. Their approach is simple yet revolutionary: they make used materials visible and digitally available by taking them online.
But Circulania goes beyond mere visibility; it finds new purposes for these materials, creating innovative supply and value chains in the process. The result? An industrial circular economy that not only reduces environmental impact but also maximizes the utility of existing resources.
A passion for total material recycling and sustainable practices
Circulania's passion for total material recycling stems from a deep understanding of some essential facts. Europe's heavy reliance on material imports, often from a handful of countries, underscores the need for diversification and sustainability. Moreover, the startup recognizes the environmental toll of traditional mining and processing methods, which emit significant volumes of greenhouse gases. Recycling and reusing materials drastically reduce these emissions, a fact that drives Circulania's commitment to its cause.
The team at Circulania firmly believes that landfilling or burning valuable materials is not just environmentally unsound but also economically irrational. Instead, they meticulously select the best secondary materials right from the start, supporting research and development departments in their quest for sustainable alternatives. By collaborating closely with sales and production teams, Circulania creates new materials that not only enhance production processes but also cater to customer needs.
Making circular economy profitable
One of Circulania's most significant challenges—and triumphs—is the pursuit of a profitable circular economy. They understand that for the concept to be sustainable in the long run, the materials they create must be competitive both in quality and price when compared to their primary counterparts. And according to their esteemed business partners, Circulania has not only met but exceeded this expectation.
A visionary leap into a self-sustaining future
Circulania's vision extends beyond the confines of contemporary industry. They are leading the change towards a self-sustaining economy, where materials seamlessly transition from one purpose to another without being discarded. This ambitious goal is achievable through their relentless efforts to optimize material use across various industries, merging these industries into one cohesive material ecosystem.
In a world inundated with environmental challenges, Circulania stands out as a beacon of hope, proving that innovation, sustainability, and profitability can coexist. As they continue to pioneer the industrial circular economy, Circulania is not just reshaping industries—it's shaping a future where waste is a concept of the past, and every material finds its purpose, perpetually circulating within the realms of a truly sustainable economy. Stay tuned as we delve deeper into Circulania's journey, exploring the intricacies of their innovative approach and the impact they're making on the world stage.
Fundraising achieved so far
260,000 EUR with 60,000 EUR as grants and 200,000 EUR as convertible from public nrw.bank.
They are currently raising 1,100,000 EUR in fresh equity.
Team – The expertise behind circulania's innovation
Circulania benefits from the expertise of a highly experienced team, possessing in-depth knowledge of domestic raw material markets and a unique understanding of extracting value from industrial by-products and wastes that surpasses conventional recycling methods. Their proficiency extends to leveraging process management expertise from manufacturing and processing industries, seamlessly integrating it with digital potentials identified through rigorous market research and exploration.
Timing – Seizing the opportunity amidst market challenges
Circulania recognized a crucial market need amidst unprecedented challenges in the business landscape. As the world faced the daily uncertainties of a VUCA (Volatile, Uncertain, Complex, Ambiguous) environment—ranging from pandemic disruptions to supply chain shocks and fluctuating energy prices—the demand for additional income from by-products and sustainable materials became more pressing than ever.
Traditional paradigms shifted, making secure delivery paramount over the lowest-cost solution. Amidst these complexities, the concept of "nearshoring" regained prominence, and industries like chemicals, steel, agriculture, and cement grappled with challenges such as energy costs, CO2 emissions, and material supply disruptions.
Circulania's innovative approach became a beacon of hope, offering alternative solutions precisely when industries needed them the most. Moreover, local authorities in Western Europe heightened their scrutiny, compelling local industry plants to elevate re-use and recycling rates—making Circulania's services even more relevant and timely.
TAM – Targeting key minerals
Addressing the recycling and composition of essential minerals—Al2O3 (alumina, aluminum oxide), CaO (burnt lime, calcium oxide), and SiO2 (silica, silicium oxide)—Circulania ventures into a substantial European market valued at 13.25 billion EUR annually. This figure excludes Al2O3 for aluminum production, highlighting the lucrative opportunities within this strategic focus.
Traction – Impressive traction and steady growth
Following strategic realignment, Circulania's revenues skyrocketed from 30,000 EUR in 2021 to an impressive 270,000 EUR in 2022. Despite operational challenges and energy-related production setbacks in 2023, the company anticipates a substantial leap, projecting revenues to reach between 550,000 to 600,000 EUR. Circulania's robust presence is evident through collaborations with five major corporations, serving both as customers and suppliers, and a production network that spans over 30 companies, showcasing the company's steady growth and industry influence.
Technology – Transformative technological innovations
Circulania is leading a technological revolution, orchestrating seamless collaboration among 30+ companies and enhancing production processes from simple trades to intricate three-step value additions. Their cutting-edge technology involves a three-layered architecture, streamlining proposal, order, invoice, and document management.
Real-time coordination and daily delivery logistics are facilitated, while a user-friendly frontend collects and processes RfX, customer requirements, and supplier materials. Currently, the first two layers are operational and in testing phases, with the third layer under active development. Remarkably, over 70% of the system comprises open-source software or proprietary customizations, exemplifying Circulania's tech prowess and commitment to innovation.
Naviagating industry trends: A timely perspective
Carbon footprints are undeniably becoming an important aspect of raw material manufacturing in light of industry shifts. Circulania offers carbon-neutral secondary raw materials, aligning with the eco-conscious movement. Additionally, their regional focus and multiple sourcing options within the EU provide stability, countering supply chain disruptions and price fluctuations. Their ability to swiftly adapt between reliable supply chains underscores their resilience, making them a pivotal player amidst these changing industry dynamics.
Want to learn more and see if the startup fits your portfolio? Check out Circulania and connect with them on DueDash.